More details on my vintage Kodak Deluxe Speaker Unit Model A find. I tried to get some photos, but I apologize for the quick & dirty cell iPhone quality.
The little details on a vintage item are sometimes as interesting as the item itself. This one is no exception.
The construction is interesting, but the remnants left behind from its previous lives are cool too.
The Speaker Itself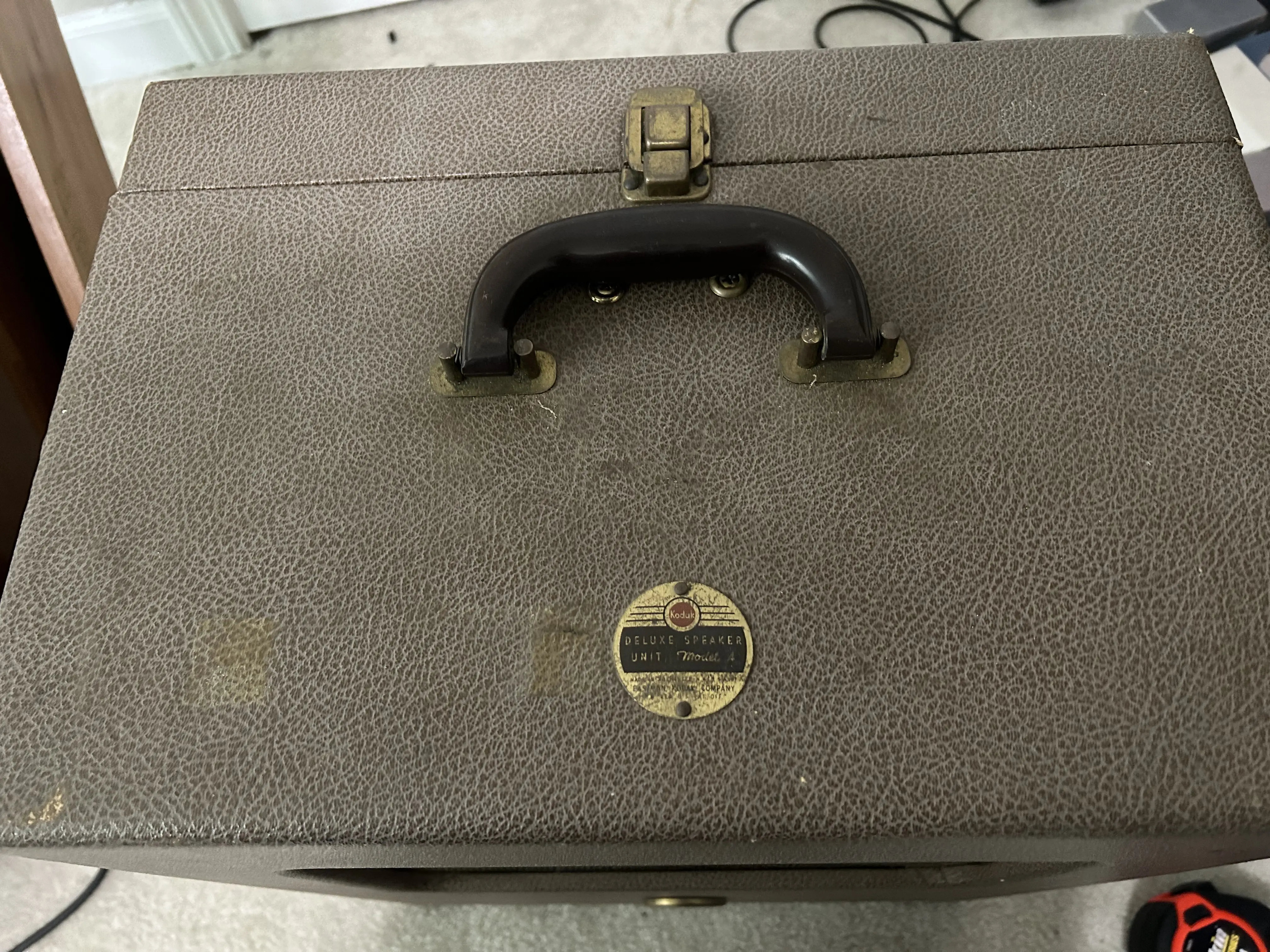 The front and the top are more about the device.
Up front, you can see the cool brass-looking grate. It's definitely metal, and may be brass. I haven't really investigated. The old Kodak badge centered below is great. And I love the proportions there.
On the top you see the latch for the back to fold down and expose the old cable. There's a plastic handle that really feels Bakelite, but I'm also not positive on that material. Neither it nor the covering are cracking like a lot of plastic does over time. There's the more detailed Kodak badge.
It's kind of hard to make out in the photo, but it says "DELUXE SPEAKER UNIT Model A." The contrast between the humanist all caps and the script type is really nice. I've never seen that script typeface to my memory.
Below is the typical details but the corrosion has not been kind to them. It says Rochester, NY and Eastman Kodak Company with the normal details you'd see on old Kodak equipment.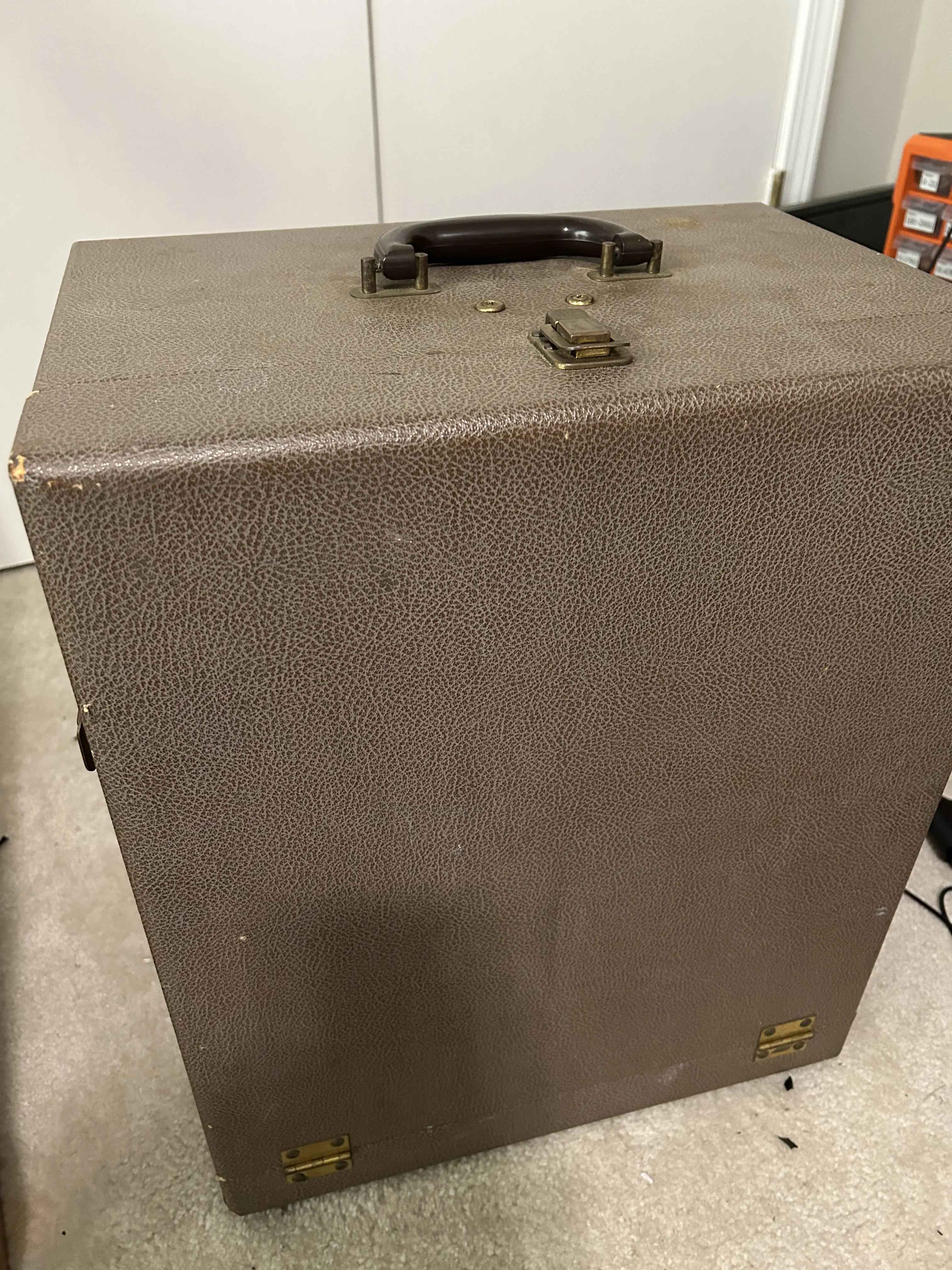 The closed back just reveals the brass latches and hinges.
The historical bits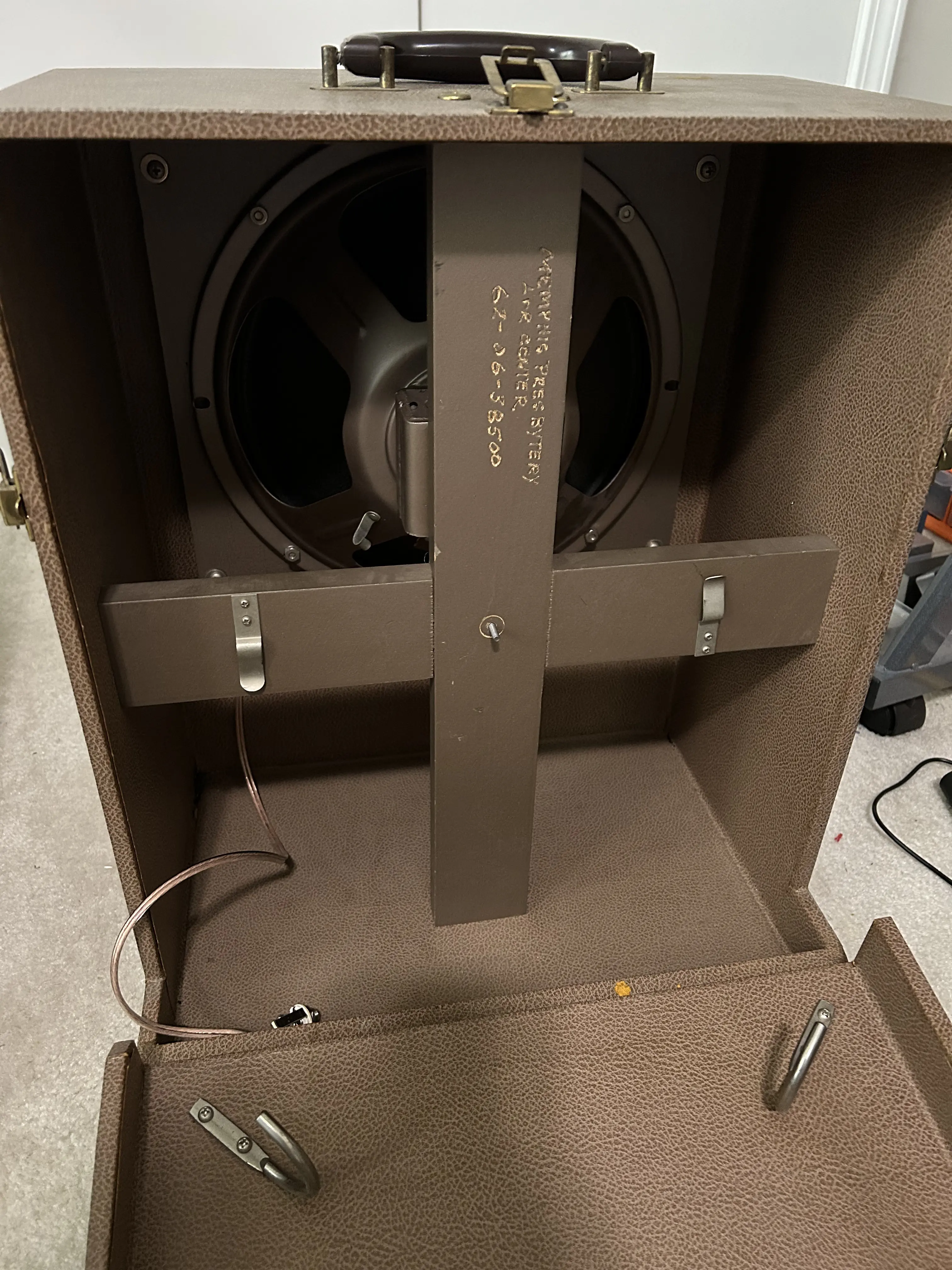 You can see my rewiring job there with the 1/4" mono jack waiting for a panel to mount to.
The crossbeam is interesting, and I'm not sure what the center machine screw held.
The hooks are 2 of 4 that held the 50' phono cable for storage. You might be able to make out bits of black plastic from the insulation exploding as I moved the (now removed) cable.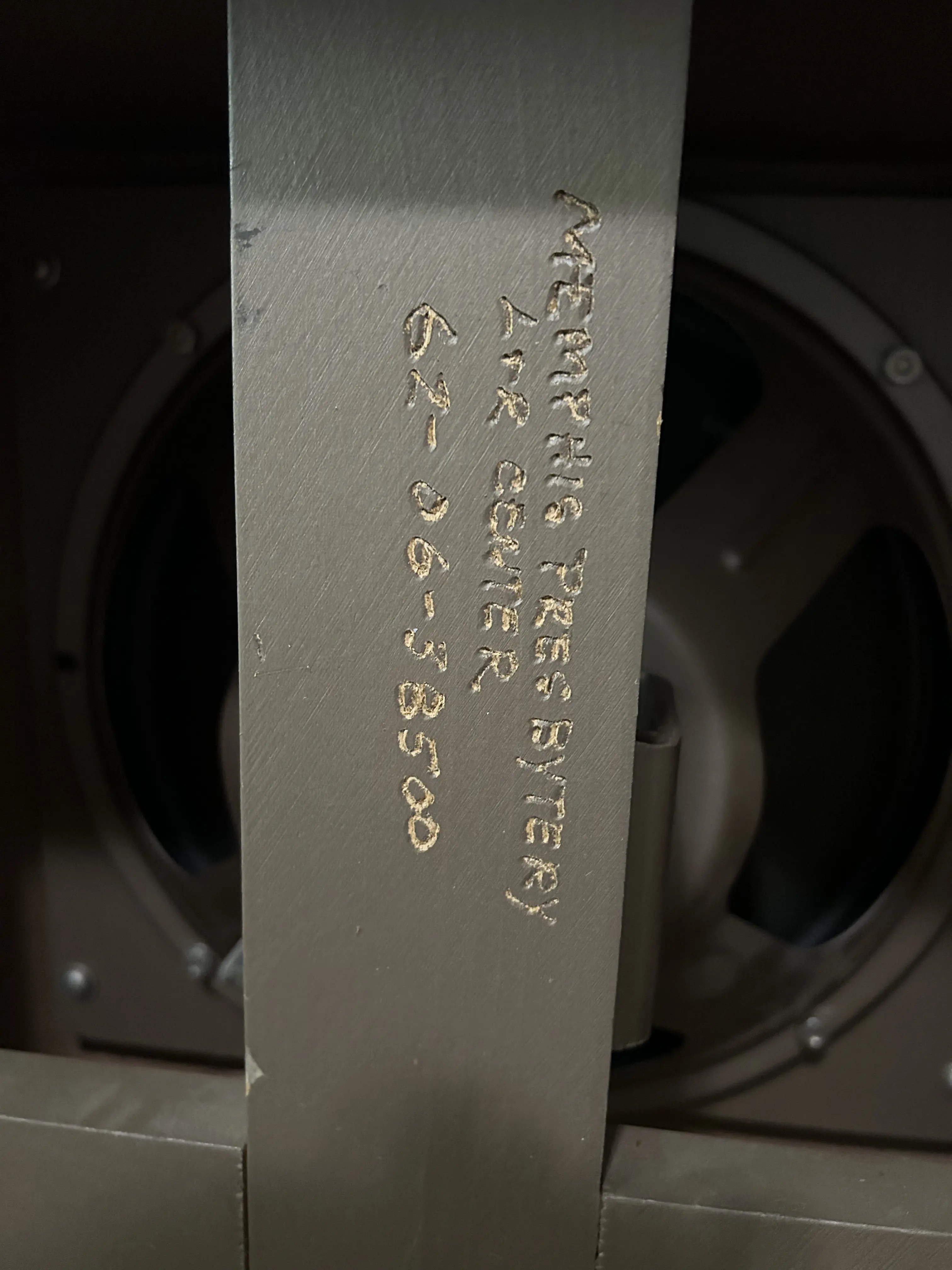 But it gets interesting when you see what was carved into that vertical cross beam.
Memphis Presbytery
L+R Center
62-06-38500

The best I can tell, Memphis Presbytery was part of the Cumberland Presbyterian Church. It looks like the name was changed from Union Presbytery in 1841 and lasted until 1988. This wasn't a church itself, but a subdivision of the Cumberland Presbyterian denomination.
I'm not sure if the L+R Center was a facility for worshipers to go to or if it was a resource for churches to borrow shared resources like this equipment.
The number at the bottom seems like some kind of an asset number to me, but I may be very mistaken.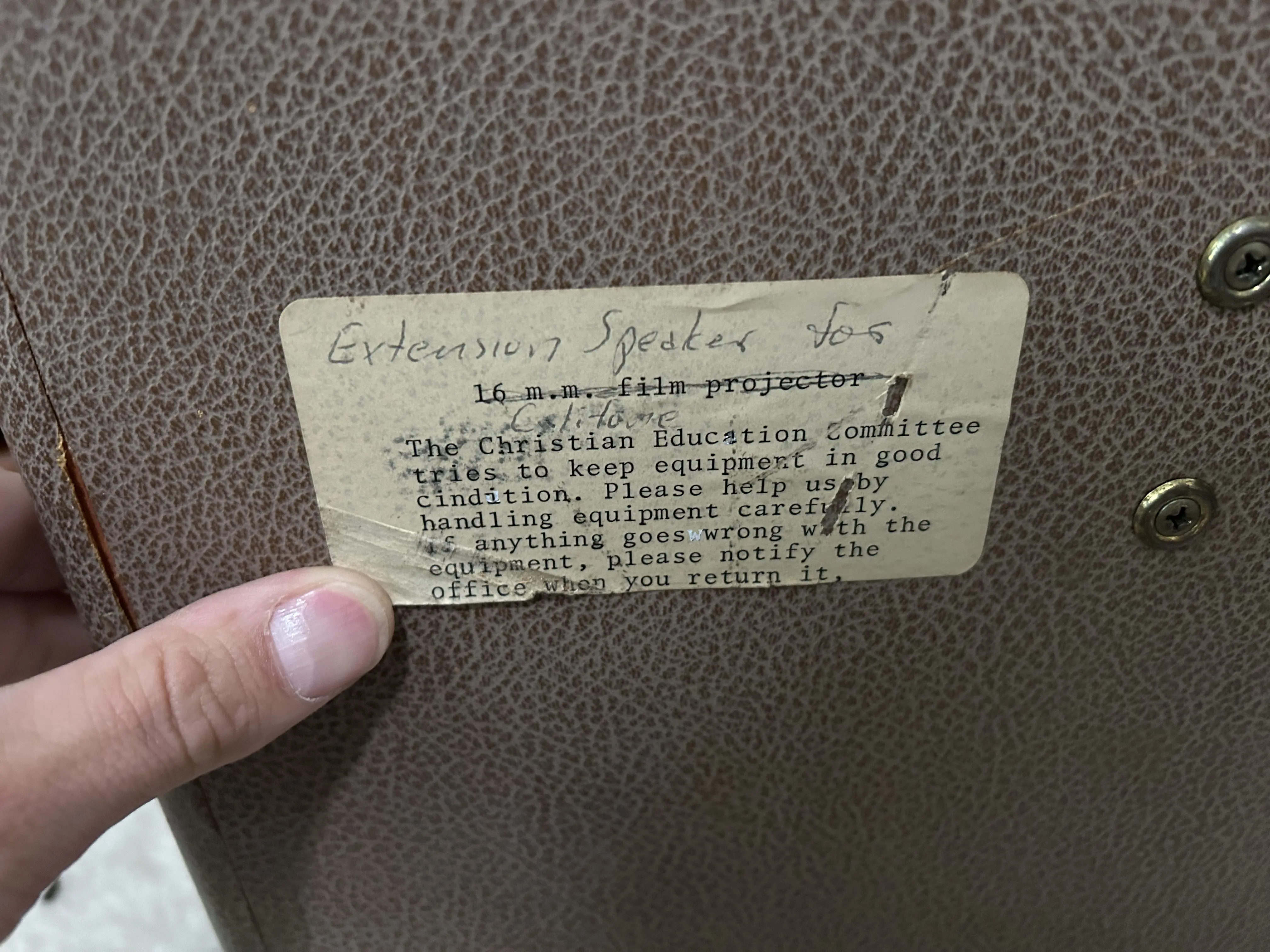 The label on the side is also interesting. The original typed text reads
16 m.m. film projector

The Christian Education Committee
tries to keep equipment in good
cindition.  Please help us by
handling equipment carefully.
If anything goes wrong with the
equipment, please notify the
office when you return it.

It's not clear if it was being lent out to churches or to groups at a church. I'm also not sure if The Christian Education Committee was part of the L+R Center, a new name for it, if this changed hands within the church organization, or if went to a different one.
But I love the typo of "cindition." This label was typed out by hand on a typewriter at some point.
You can see that the speaker originally accompanied a 16 mm. Kodak projector.
At some point the purpose changed and someone scratched out "16 m.m. film projector" and scrawled in "Extension Speaker for Califone." Califone was a company that made record players typically used by schools and educational facilities, which lines up with the usage we would expect. They made record players that looked pretty industrial like this: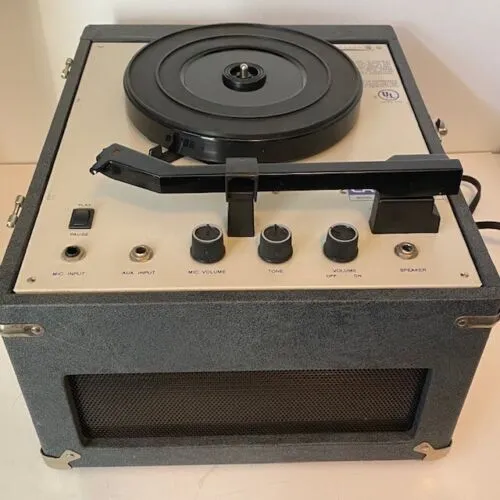 I hope it was that model, because I feel like it would have gone well with it. Others are painted metal and such. They're kind of collectors items now after being slept on for decades.
Summary of its life
This speaker has likely not kicked out many jams. There's a chance some pop music graced its electromagnet at a dance, but I think that this mostly projected audio from films and then records with religious content.
I'll choose to think that the device is content with being repurposed into the service of rock and roll, though. I promise not to play metal through it. OK, not much metal at least.
If you like the history of American Protestant denominations, The Cumberland Presbyterian Church is pretty interesting. In many ways it more closely resembles the United Methodist Church than the more Calvinist United Presbyterian Church and split out of the Presbyterian church out of a mix of The Second Great Awakening and practical necessity.
Davy Crockett was a notable member, however I can be sure he never experienced this speaker since he passed away in 1836, famously at the Alamo.
It is interesting that I got this speaker from an estate sale in Moscow, TN but it still has tangential roots back to the Cumberland Plateau, which is the most beautiful part of my state to me, and generally a region I love.
---